First time ever! Legislation for music pros!
Producers and engineers have an indispensable role in the creation of recorded music and therefore a stake in the discussion of fair pay for music creators. Traditionally, how and how much these professionals are compensated in performance royalties for their work has been left for the concerned parties – the artist, and the producer or engineer – to work out amongst themselves. And SoundExchange, the nonprofit entity that collects and distributes digital performance royalties for artists, has chosen to honor agreements between artists and producers and issue direct payments to producers when appropriate.
Now, for the first time in U.S. history, there is finally a bill designed to address the needs of studio professionals. the Allocation for Music Producers Act, or AMP Act (H.R. 1457), will ensure that producers get efficient and direct payment of performance royalties they are due. The bill will create a statutory right for producers to receive royalties from SoundExchange when they have a letter of direction from a featured artist. And it will create a new process by which producers can request royalties from artists for older recordings when there is no letter of direction in place, if the artist does not object.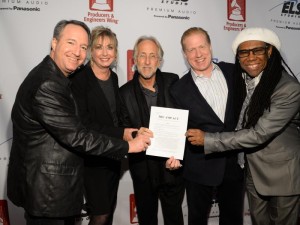 Read more here:
https://www.grammypro.com/advocacy/blogs/amp-act-turns-volume-fair-pay-studio-pros-0