Freshly Back From GRAMMYs 55!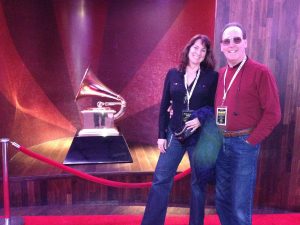 We really did work, honest!
It seems that when you do what you love, you have to remind yourself that you truly are "working". That was the case with much of the pre-event gatherings at The Recording Academy's 55th Annual GRAMMY Awards. We were surrounded by the best of the best, working, to find out what the music industry is going to look like in 2 years, 5 years or 10 years. No one knows, which can be paralyzing or exhilarating. The rules have changed. We all need to get very creative in how we define our place in the music industry. Here at Tanglewood we are on a great ride. Changes in the industry open the door for creative approaches. We're having an exhilarating time making new rules. We are also finding that our artists are not only talented in music making but have incredible "outside the box" ideas on how to interface with this changing industry.